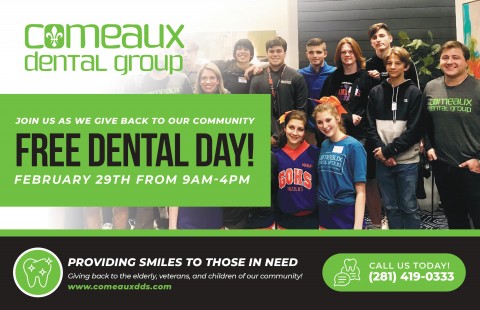 Comeaux Dental Group is thrilled to host Free Dental Day 2020 on February 29th from 9am to 4pm. The event will take place at the Comeaux Dental Group location in The Woodlands. The event is co-sponsored by Angel Reach, the Noack Foundation, Interfaith Community Clinic, Henry Schien, and Chick-Fil-a of the Woodlands and Magnolia.
Join us as we give back to the community by providing smiles to those in need. Giving back to the eldery, veterans, and children of our community.
• Consultation + Diagnosis: Sith with our professional staff as we discuss and diagnose your ailments and treatment needs
• Full Range of Treatment: Once we establish the best treatment plan, our staff with provide top quality dentistry completely free of charge
• Complimentary Smiles: Free Dental Day gives us a chance to give back to our amazing community and help those in need
Call us today to learn more about this event, (281) 419-0333
For more information about Comeaux Dental and our efforts to give back to the community follow our social media outlets.